Ebron y'n Nos - mis-Hwevrer 2022 - an JWST
Tags:
Ebron y'n Nos
kernewek
radyo an gernewegva
astronomy
27 Jan 2022 - Davydh Trethewey
This is a transcript for the February 2022 special segment of 'Ebron y'n Nos' for the launch of the James Webb Space Telescope I prepared for Radyo an Gernewegva, broadcast in #573.
Yma nowodhow da y'n bys sterenieth. Lonchys o an pellweler James Webb, war an dhiwedh. Towlenn hir-dermyn yw gans NASA dhe worra pellweler nowydh yn spas dhe siwya ober an Pellweler Hubble.
My a leveris dhywgh, an pellweler JWST dhe lonchya Dy' Kalann Gwav, yth esa delatyans berr pella, ha'n dydhyas lonch finel o Dydh Nadelik, 25ves mis-Kevardhu 2021. Lonchys o gans fusenn Ariane 5 diworth porth-spas Asianteth Spas Europek yn Kourou, Gyana Frynkek.
Yth esa nebes taklow dhe'n pellweler dhe wul kyns ev dhe dhalleth y ober skiansek. NASA a leveris yth esa tri hans poynt a dhefowt a yllsa gul dhe'n ragdres fyllel.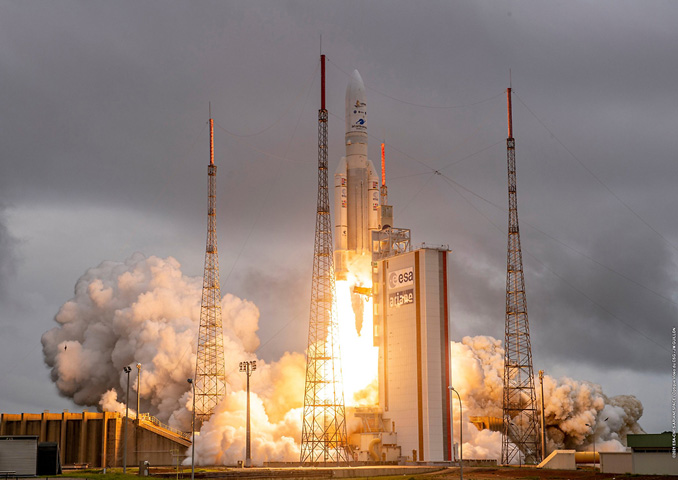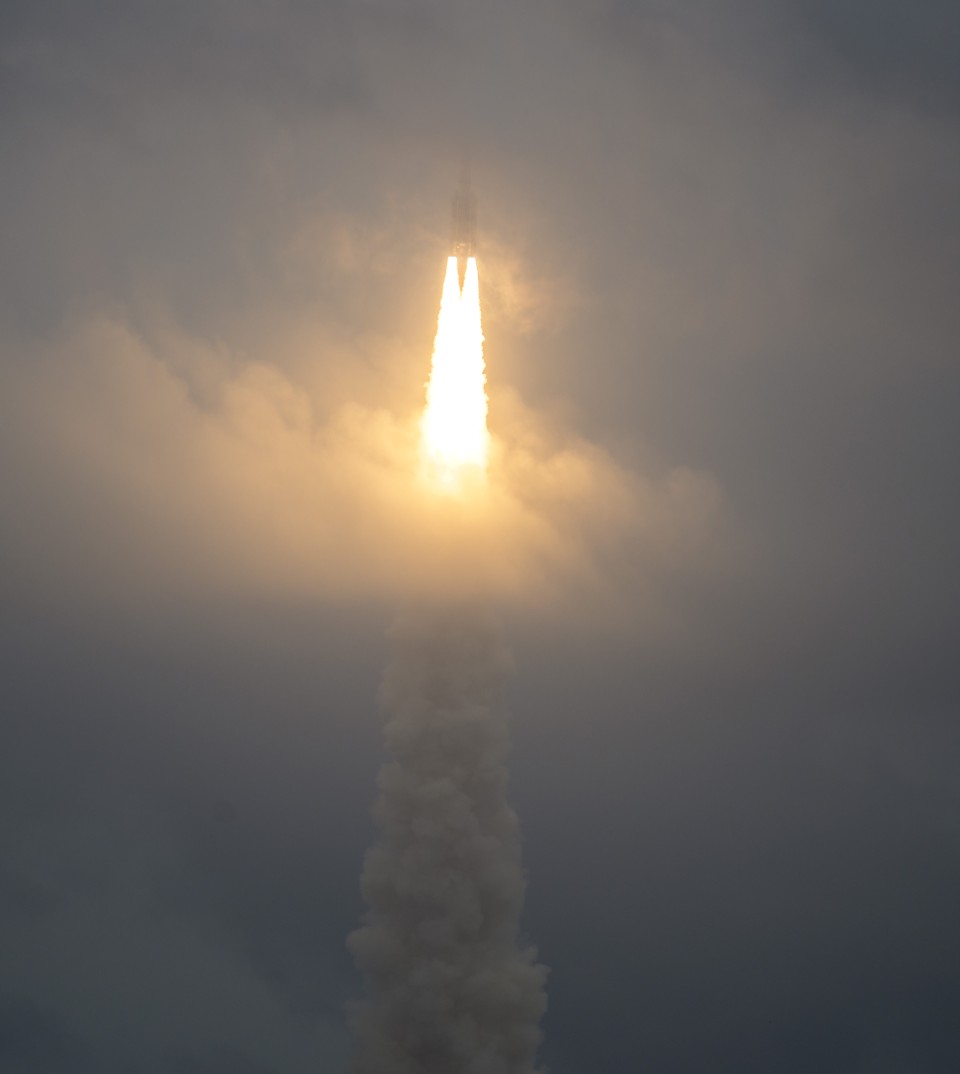 Gwydheo NASA a-dro dhe'n oberennow res dhe JWST yn dydhyow wosa y lonch:
Wosa lonch, yth esa edhomm dhe'n pellweler gul ewnhansow y hyns, war-tu y resegva finel. An resegva yw onan arbennik, yn le henwys L2. Py le yw L2? Klub nos yn Truru nans yw lies blydhen? Nag yw y'n kas ma, yth yw onan a'n poyntys Lagrange, henwys a-wosa steronydh ha mathemategydh Joseph-Louis Lagrange (1736-1813). An poyntys Lagrange yw poyntys kespoesedh ynter gravedh an howl ha'n norvys rag taklenn vyghan.
Poynt L2 yw an poynt yn linenn gans an howl ha'n norvys, ystynnys dhe-ves dhe'n howl, ha'n gravedh dhe'n howl ha'n norvys yw lowr dhe alowa taklenn orth L2 gul resegva yn keth termyn ha'n norvys. Yth yw ogas ha 1.5 milvil kilometer diworth an norvys. Heb an norvys dhe vos ena, y fia termyn an resegva hirra es unn vlydhen, ha gans gravedh an norvys keworrys, termyn an resegva yw an keth ha'n norvys y honan.
Resegva a'n par na a alowa an JWST dhe oberi heb kaletter tempredh gans mos a-ji hag yn-mes skeus an norvys. JWST a'n jeves skeus-howl dhe witha an pellweler ha'n maynys rag golow ha gwres an howl.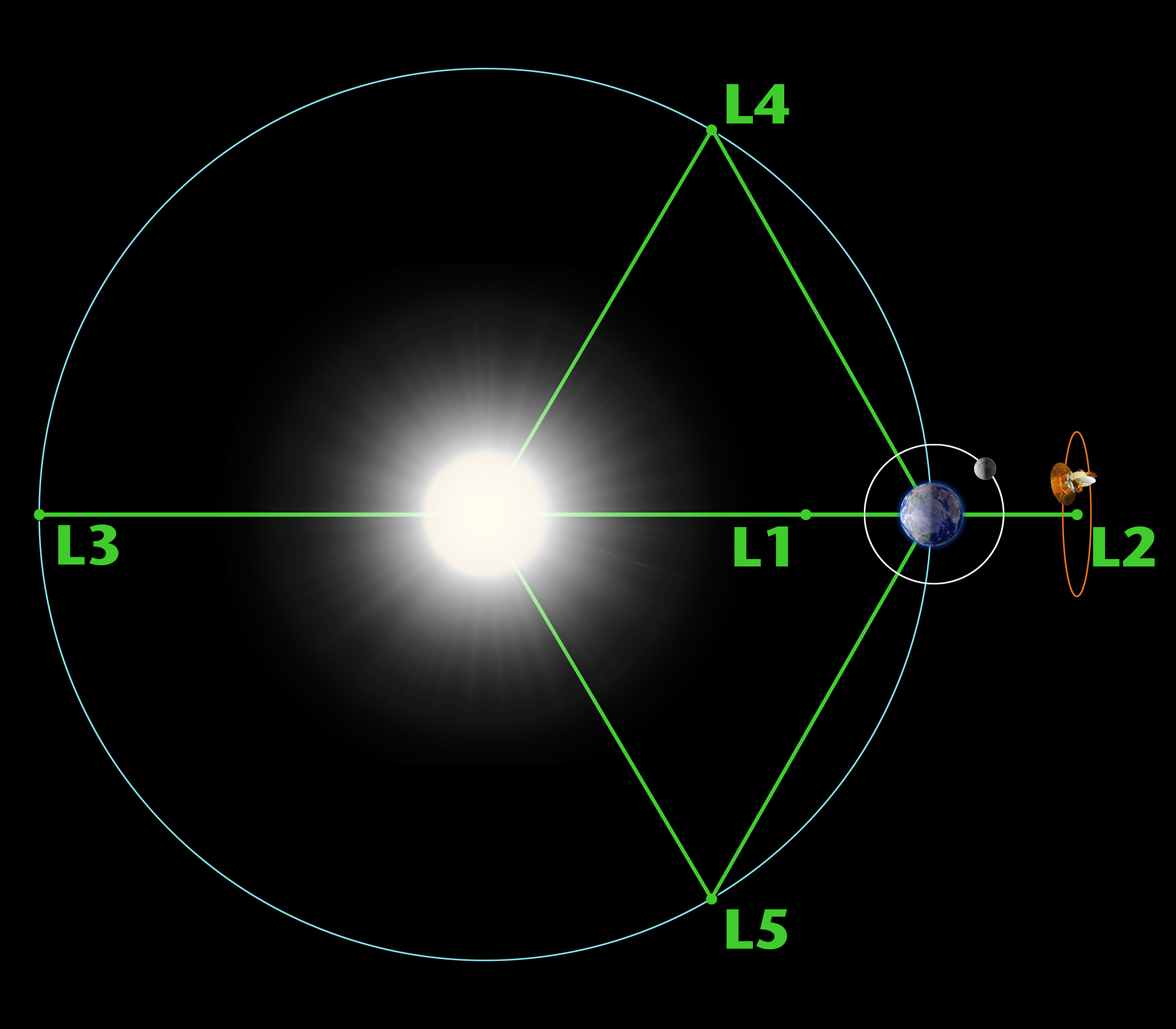 Linenn-termyn displegyans an JWST wosa lonch:
Keswel ynter Stephen Clark (Spaceflight Now) ha Keith Parrish (NASA) a-dro dhe dhisplegyans JWST:
An kynsa tra dhe wul wosa lonch o dhe dewlel dhe ves an ferenn ha'n fusenn kennerthell, hag ystynna an panellys howl. Henn o gwrys a-dro dhe hanter-our wosa lonch. Ena, yth esa edhomm an ewnhansow hyns, hag ystynna an davell-radyo.
War an fordh dh'y resegva orth L2, yth esa res dhe'n pellweler James Webb displegya. Plegys o an pellweler, dhe dhesedha a-ji y ferenn war an fusenn. Nag eus fusenn bras lowr a yll desedha pellweler gans mirour 6.5 meter. Yn kynsa ev a wrug displegya an skoes-howl. Yma res dhe'n maynys JWST bos yeyn, hag i a wra oberi yn is-rudh. An skoes-howl a wra skeusi an pellweler diworth an golow ha'n gwres an howl. An skoes-howl yw gwrys a bymp kennenn, ha komplek o dh'y displegya. Byttegyns, yth o oll gwrys yn sewen.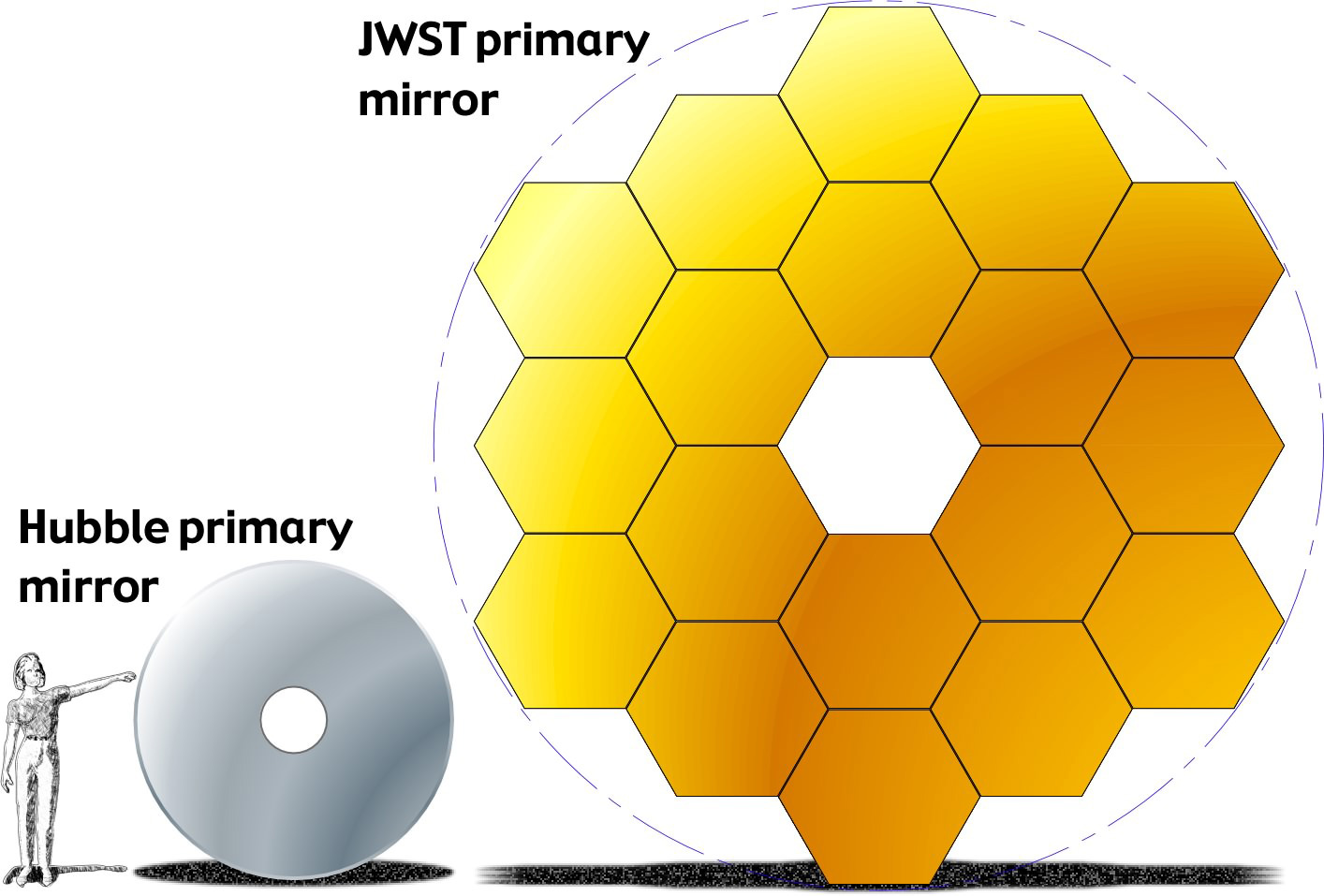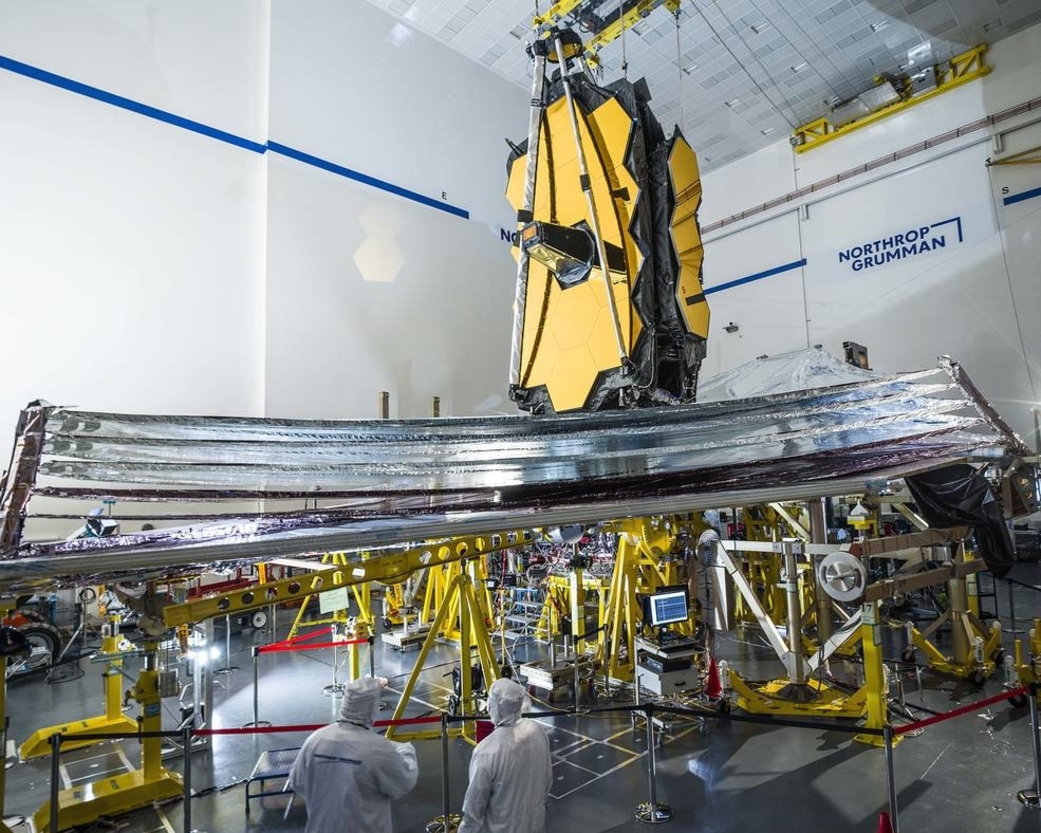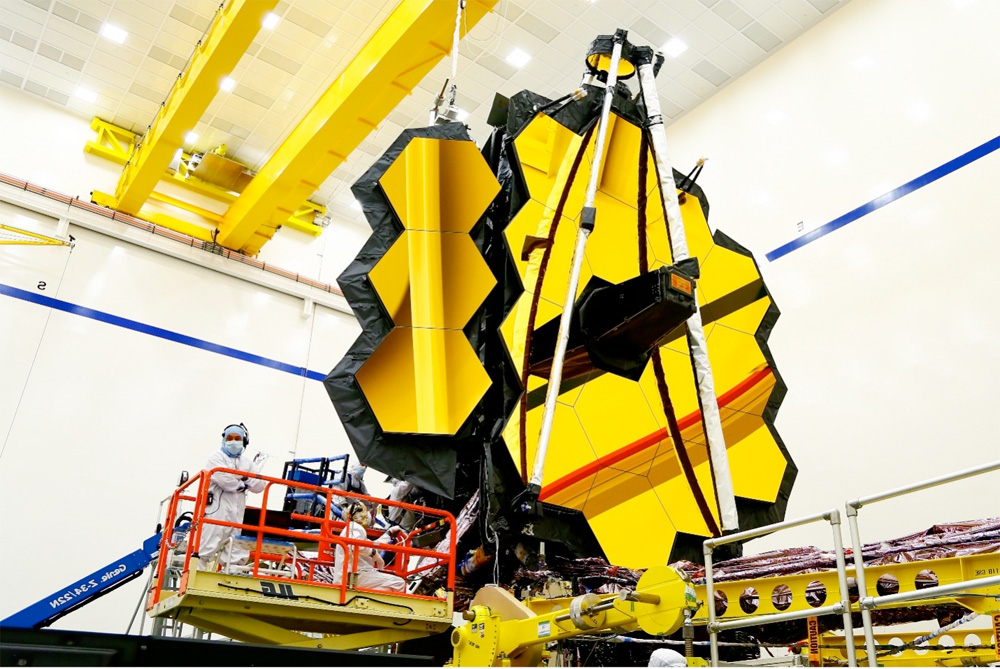 Yth esa an mirour nessa displegys dhe'n 5ves mis-Genver, ha'n dewynnell gwres 6ves mis-Genver. An penn-mirour yw gwrys yn 18 hweghkorn, hag yth esons i plegys orth lonch, ha'ga displegyans o gwrys yn 7ves ha'n 8ves mis-Genver. Wosa hemma, yth esa edhomm gul alinyans an hweghkornyow. An rannow mirour yw gwrys a berylliom ha gorherys gans owr. Yma a-dro dhe 48 gramm a owr yn gorher an mirour JWST.
Dhe'n 24a mis-Genver, an pellweler JWST a dhrehedhas y resegva dhe L2, hag usya y herghyoryon dhe wul ewnhans y hyns, rag entra resegva a-dro dhe'n poynt L2. Drefenn bos puptra yn towlans gwrys yn ta dhe'n termyn ma, ha'n ewnhansow gwrys gans myns isel a keunys, yma amont bras rag oberyansow, ytho gwaytys yw an pellweler dhe besya oberi rag termyn hir.
An termyn ma, yma an maynys JWST dhe vos yeynhys, hag an pellweler a vydh poyntys dhe sterenn HD 84406 yn Ursa Major, gans braster +6.9, nebes re wann hy splannder rag gweles dre lagas, hag an kamera NIRCam (kamera isrudh nes) a wra musura dewynnyans a'n 18 rann a'n mirour, ha'n pellweler a wra bos alinys yn fin dhe alowa an 18 rann dhe oberi avel unn mirour.
Gwydheo NASA a-dro dhe alinyans an rannow mirour JWST:
Yma peswar mayn dhe'n JWST, an NIRCam a wra imajys yn golow gweladow hag isrudh ynter 0.6 mikrometer ha 5 mikrometer.
An nessa yw NIRSpec, hag a wra oberi yn keth tonnhysow, ynter 0.6 ha 5 mikrometer, hag a wra spektra a-der dhe imajys. An spektrometer ma a yll gul spektrum a gans taklenn yn kettermyn yn unn mirans.
An tressa yw MIRI (Mid-Infrared Instrument), kamera ha spektrometer yn isrudh kres, ynter 5 ha 28 mikrometer. Poesek vydh an kamera ma dhe weles an kynsa ster ow furvya yn galaksiow pell. Kales yw gul miransow y'n rann ma an spektrum a'n norvys, awos skeusyans a'n ayrgylgh, ha dewynnyans diworth an ayrgylgh. Puptra gans tempredh tipek an kyrghennedh a wra dewynna y'n tonnhysow isrudh ma, ha res yw usya pellweler yeynhes yn spas, kepar ha'n JWST.
An peswora yw FGS/NIRISS (Fine Guidance Sensor/Near-Infrared Imager and Slitless Spectrograph), sensour gidyans a alowa an pellweler Webb dhe poyntya yn kewar, ha spektrometer arall owth usya tonnhysow 0.6-5 mikrometer.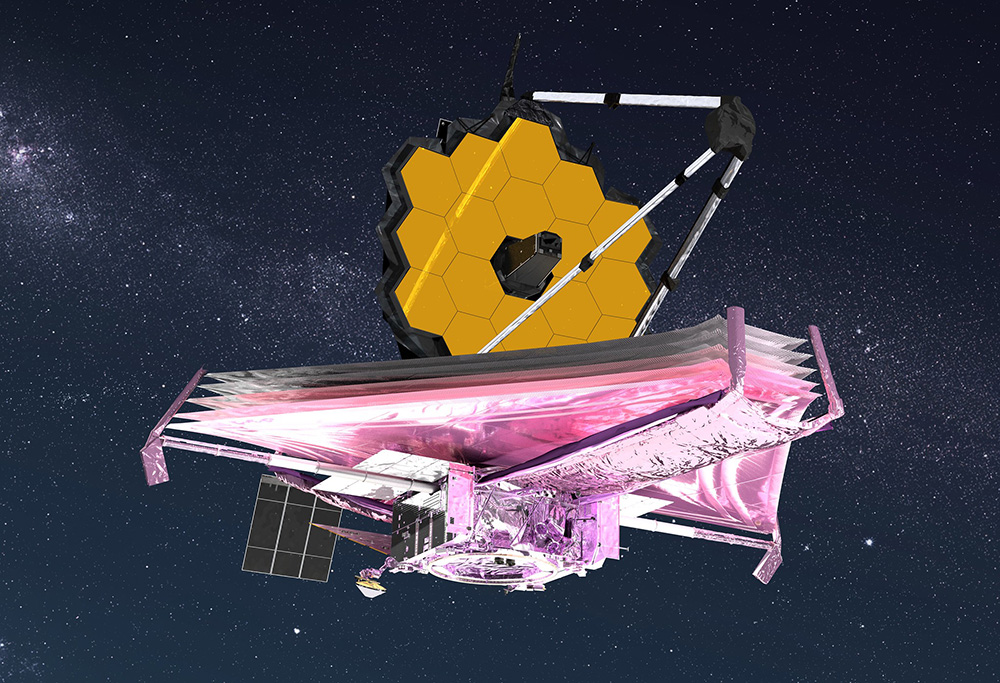 An ragdres alinyans hweghkornyow an mirour a wra durya martesen tri mis. Wosa henna, y hyll an miransow dalleth, hag an kynsa imajys steronieth a vydh a-dro dhe mis-Metheven.
Bys nessa prys, Davydh Trethewey