Ebron y'n Nos mis-Ebrel 2022
Tags:
Ebron y'n Nos
kernewek
radyo an gernewegva
astronomy
06 Apr 2022 - Davydh Trethewey
This is a transcript for the April 2022 segment of 'Ebron y'n Nos' I prepared for Radyo an Gernewegva, broadcast in #584.
Nebes moy yn kever an JWST
My a gowsas an tro diwettha a-dro dhe'n James Webb Space Telescope. Puptra a wra mos yn ta ha'n pellweler a wra y alinyans.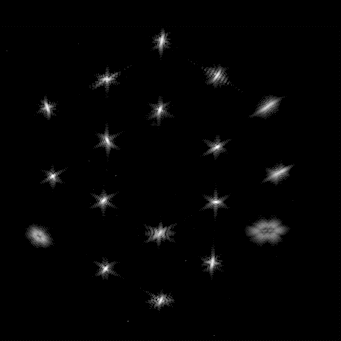 An skiansogyon NASA a wra chekkya oberans an maynys kepar ha NIRSpec ha NIRCam. NIRSpec a wra usya aray mikroklosell gans fenestri 0.1 x 0.2 mm aga myns, dhe gavoes spektra taklennow kepar ha galaksiow pell.
Onan an chyf amkanow skians a'n
JWST
yw dhe studhya an kynsa galaksiow ha'n kynsa ster a fyrvyas yn ollvys wosa an Bomm Bras, ha'n galladewder musura aga spektra, bys dhe kans anedha yn unn fram yw poesek.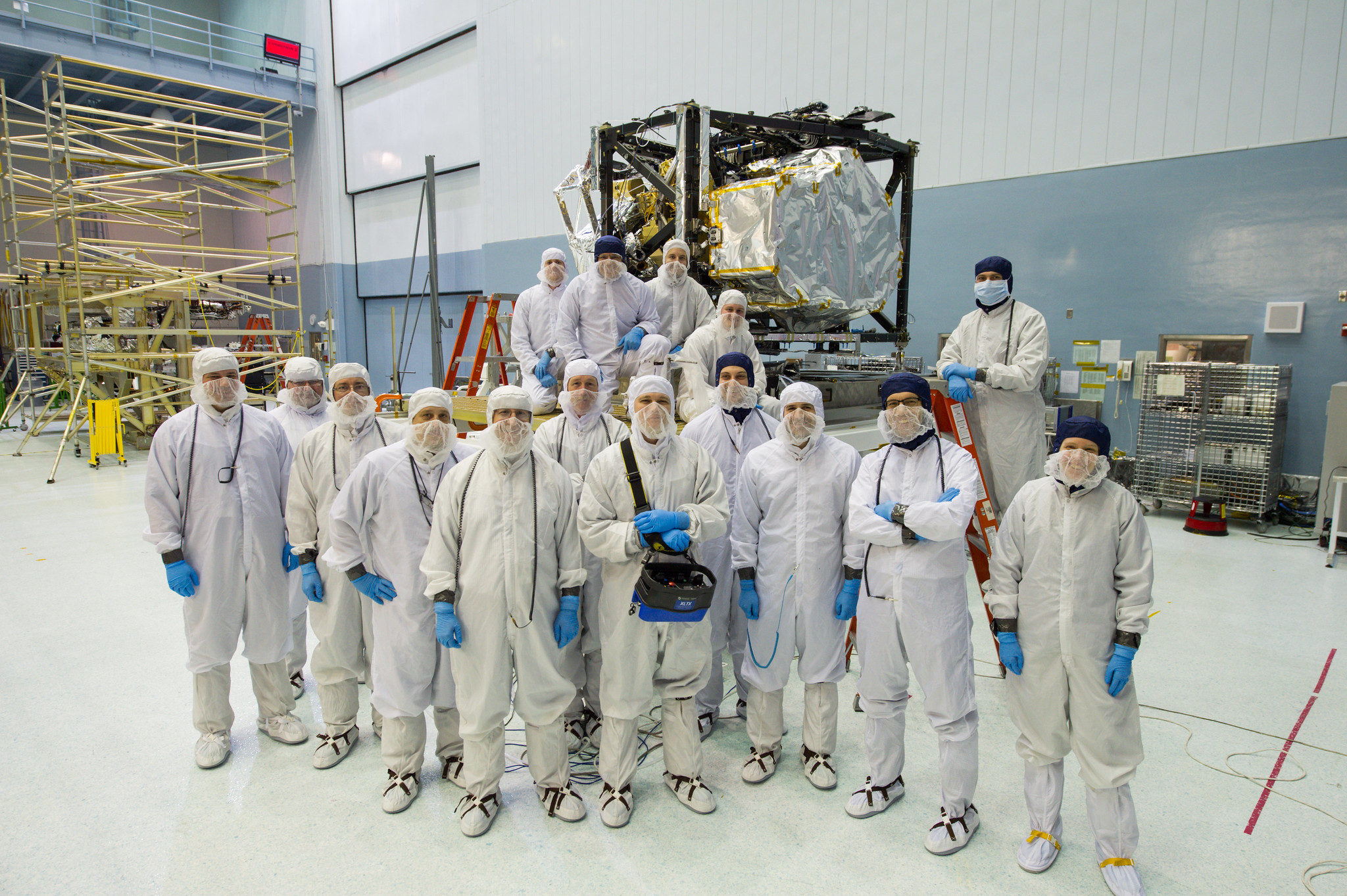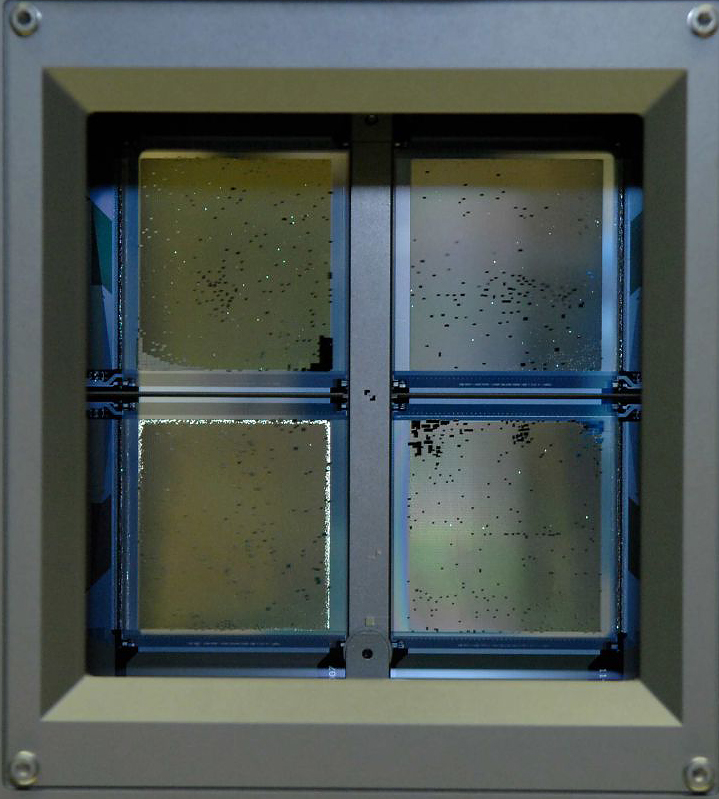 Yma alinyans hwath ow mos a-rag, kynsa an maynys isrudh ogas, ha res yw gortos an mayn isrudh kres MIRI dhe yeynhe bys dhe 7 Kelvin (henn yw -266°C) dhe dhalleth hy oberans.
An loer ha'n planetys an mis ma
Dhe'n kynsa mis-Ebrel yma an loer nowydh, 9ves yw kynsa kwartron, 16ves loer leun, ha 23ves kwartron diwetha, ha'n 30ves loer nowydh arta a vydh.
Yn dalleth mis-Ebrel nyns eus planetys yn ebron gorthugher, mes Sadorn, Meurth ha Gwener yw gweladow yn Capricornus, isel yn soth-est kyns howdrehevel. Yow a wra dos yn-mes golow an howl, ha dalleth dhe vos gweladow yn isel yn soth-est kyns an bora.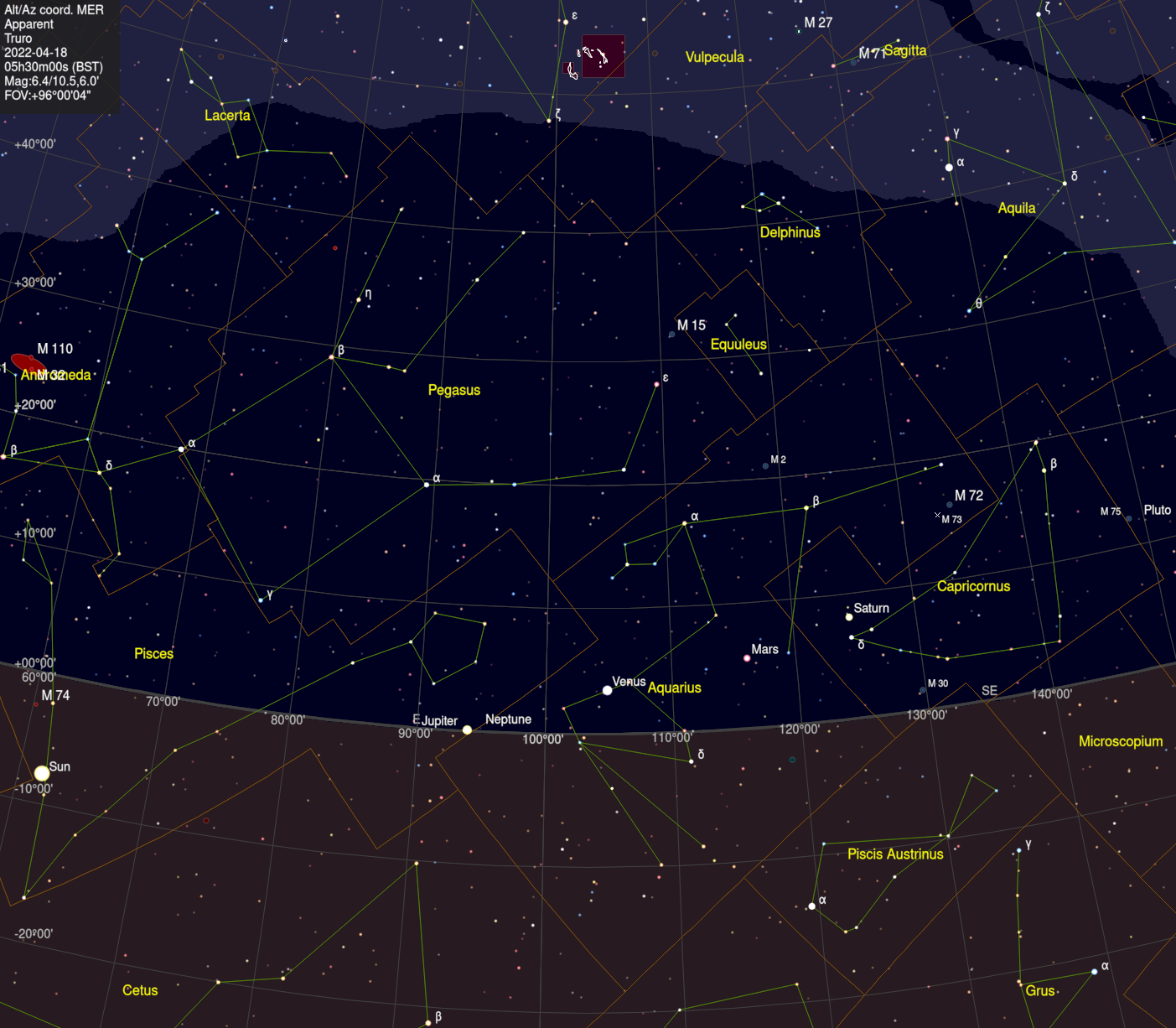 Galaksiow yn ebron nos gwenton
A-dhiworth savla ebron tewl, yma an Fordh Sen Jamys gweladow yn gorthugher, hag y'n bora kyns howldrehevel, mes yn kres an nos, y hwren ni mires yn-mes a'gan galaksi ni, war-tu ha galaksiow erell.
Yma lies galaksi yn ebron gwenton rekordys gans Charles Messier, astronomydh Frynkek 1730-1817, y'ga hyrghynn Messier 101, yn ranneves Ursa Major, yw galaksi korhwyth kepar ha'n galaksi ni. Yma an galaksiow M81 ha M82 yn Ursa Major ynwedh, galaksiow ogas, saw 12 milvil blydhenn-golowys diworthyn. Yn Canes Venatici yma an galaksi M51, gelwys ynwedh avel an Galaksi Lonklynn, onan an moyha gerys da galaksi korwhyth. An galaksi ma a'n jeves galaksi keskoweth, a wra resegva a-dro dhe M51.
Yn rannneves Leo yma nebes bagasow galaksiow, kepar ha M65 ha M66, ha M96 ha M105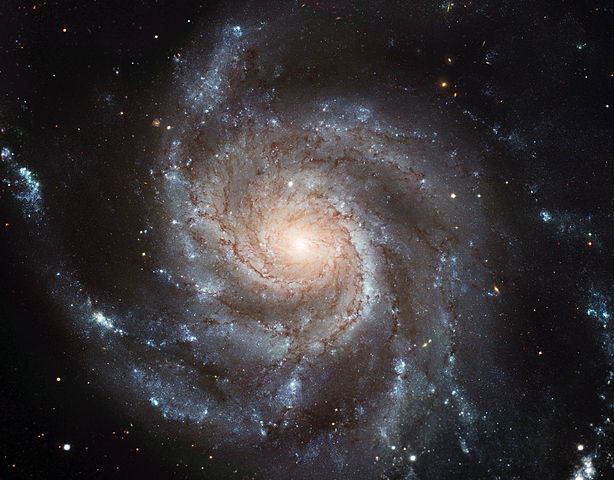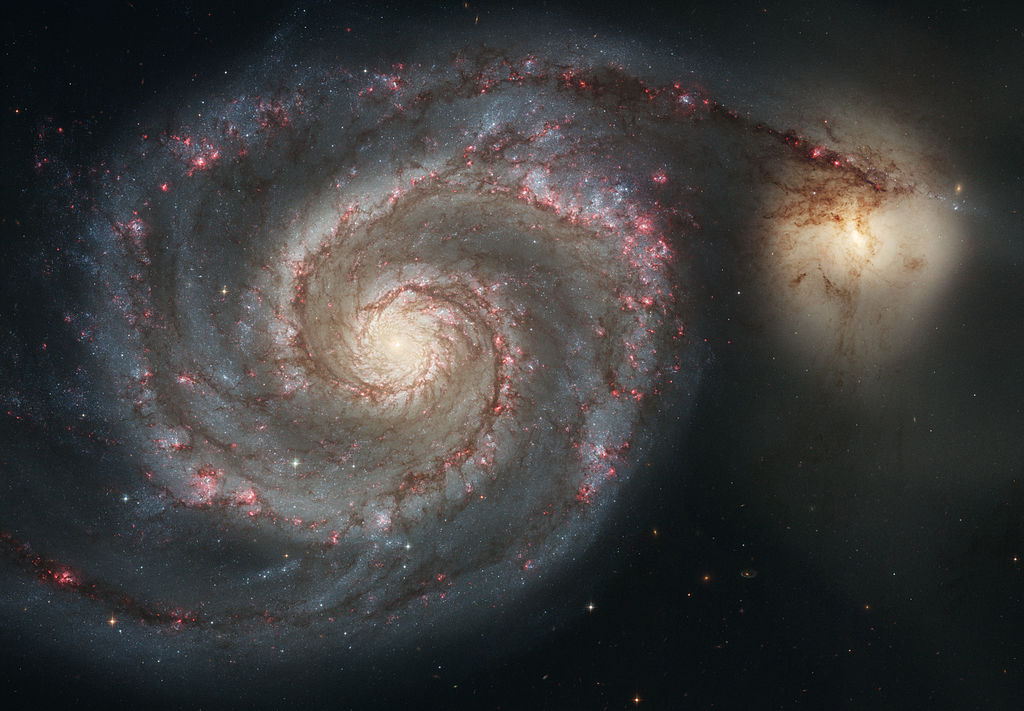 Bagasow byghan gans nebes galaksiow warbarth yw tra kemmyn, kepar ha'n Bagas Leel gans agan galaksi, an galaksi Andromeda (M31), ha'n galaksi Triangulum (M33) ha lies galaksiow loerek byghan.
Yma brassa ranneves yn ebron, Hydra gweladow yn gwenton yn soth, a-is Leo ha Virgo. A-ugh penn an Hydra, yma ranneves stergylgh Cancer, ynter an rannevesow splanna Gemini ha Leo. Kyn nag eus sterennow splann ena, yma bagas ster pur da dhe weles yn diwlagatellow po pellweler byghan, gelwys M44, po Praesepe (an presep), gelwys ynwedh avel an Gowell Gwenen.
Chons dhe weles Mergher dhe'n diwedh mis-Ebrel 2022
Dhe'n diwedh an mis ma, an planet Mergher a vydh gweladow yn ta yn gorthugher, yth yw ev orth 'greatest eastern elongation', "an moyha pellder a'n est" a'n howl dhe'n 29ves mis-Ebrel. Hemm a vydh an gwella chons dhe weles Mergher yn ebron gorthugher yn 2022 yn hantergylgh an kledh.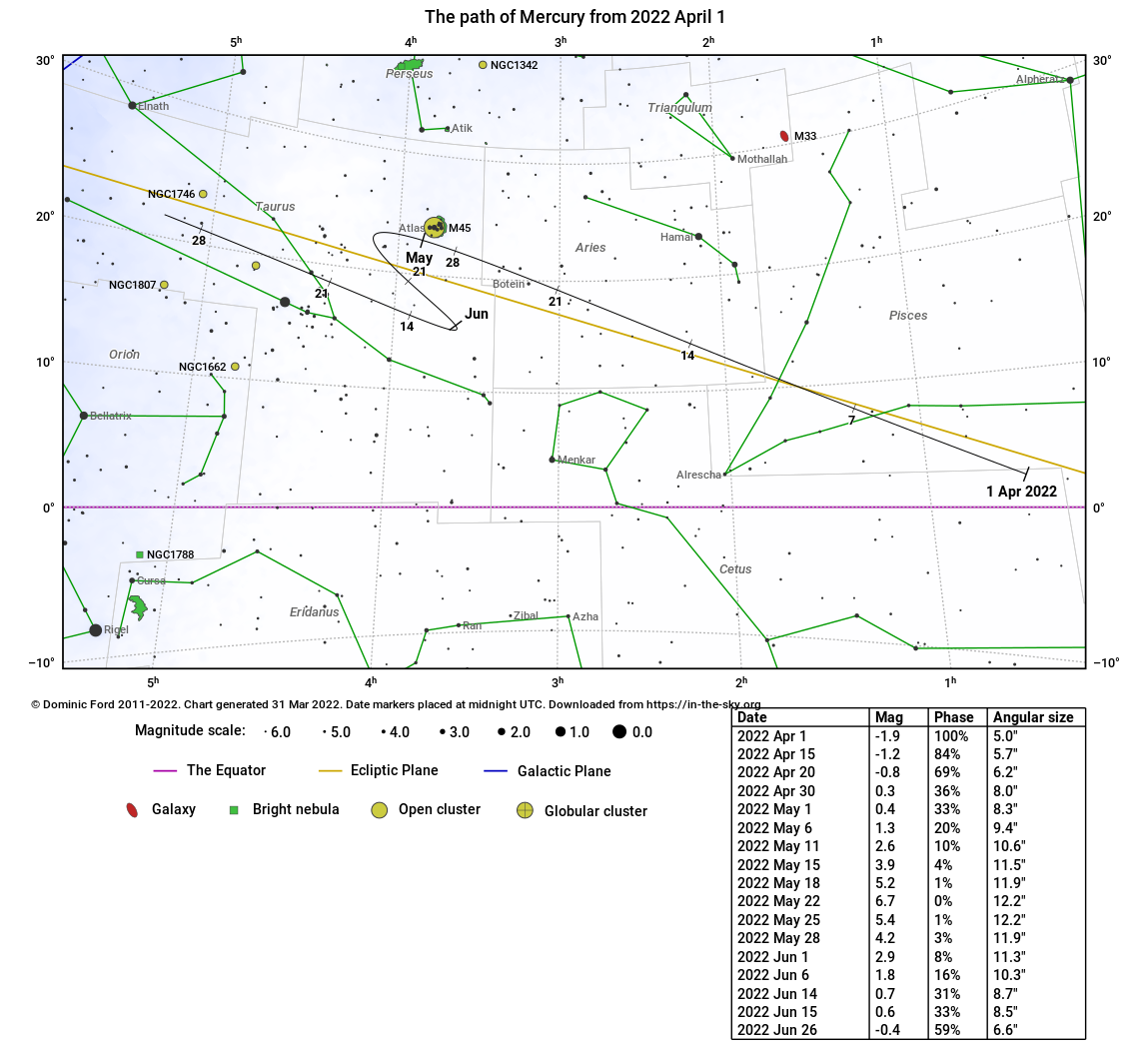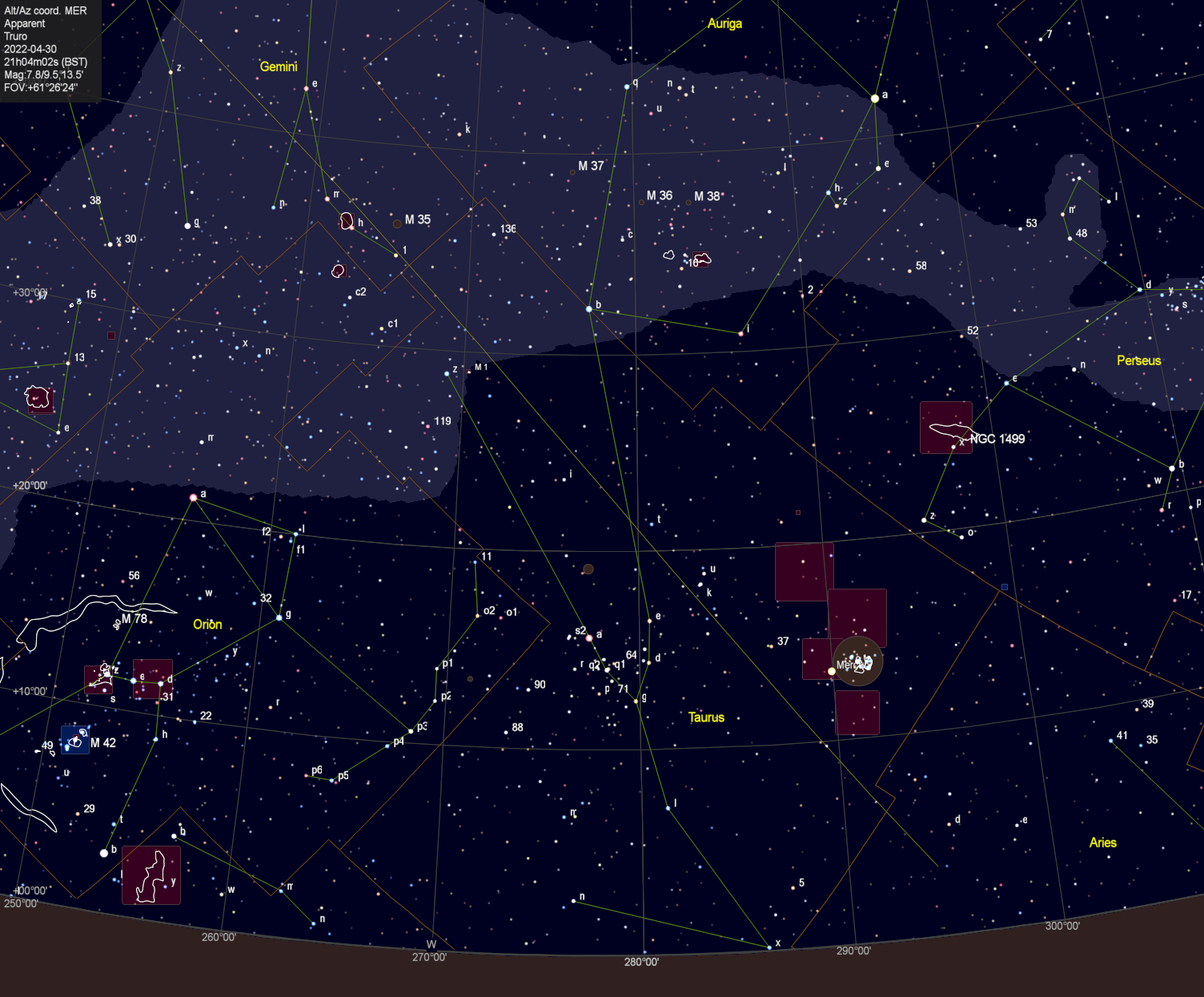 Bys nessa prys, Davydh Trethewey